On 24th September 2009 The BBC made a film about Sing Your Heart Out for their Big Screen event on World Mental Health Day 10th October 2009
A lovely cameraman, Neil, came and filmed interviews with Penny Holden (in her garden) and with Chrissy, our voice coach and with Helen Bensihem at the Fairstead Community Centre in Kings Lynn. He also filmed the SYHO workshop at the Fairstead Centre.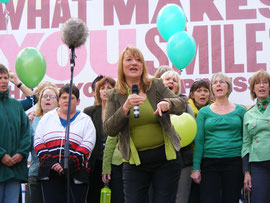 Sing Your Heart Out were also asked to appear at the Norwich Big Screen Event on 10th October. We all had great fun,and got the audience singing with us.