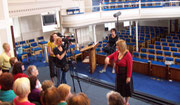 Since Sing Your Heart Out started in 2004 we have taken every opportunity to get ourselves on TV, on the radio, in the papers & anywhere else that would help to spread the word about us.
Other people have made films and radio programmes about us and we have put together stuff about ourselves.Here is a selection:-
A compilation of interviews with SYHO singers and film from a session in Wymondham Baptist church in 2010
A film the BBC made about us in 2009 as part of their Big Screen Project

A short TV programme featuring one of our long term members
The very first SYHO film, This was professionally made in 2007 for when we were shortlisted for the Health & Social Care awards. It was a long time ago and we all looked so much younger then !
Future Radio. This was recorded at a King's Lynn session in 2010