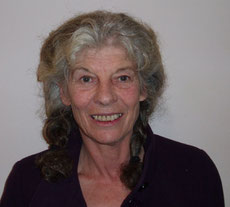 I began work as a teacher of art and English in London comprehensive schools 1973.
Increasingly I became interested in the therapeutic application of the arts, attending courses in art, drama and movement therapy.
1977 I was appointed peripatetic teacher for Newham Social Services, working in Day Centres until 1980.
I lived in Australia, had 3 children and in 1985 began work in the Occupational Therapy department at the Q. E. Hospital King's Lynn, as an art specialist, where I remained until my retirement in 2012.
Over the years I have developed groups using the expressive arts to help in the management of emotions, alleviate social isolation and enhance self esteem.
Since SYHO West was formed I have encouraged many of my patients to become involved, for its positive effects on mental wellbeing and I still believe it's a lovely way to feel better.
Sally Tily