Margaret Smith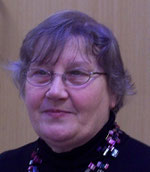 I came to Norfolk in 1977, Silver Jubilee Year, and lived and worked on the Sandringham Estate for the next five years.
It was there that I was invited to join a group of ladies that went around villages entertaining people we were called the Beaux Belles, I had the time of my life! Eventually I moved to Kings Lynn and with a friend joined the Festival Chorus, and, after a few years we left and joined The Hanse Choir which became Simply Sing, a much more relaxed group.
Singing has always been a passion with me aand when I saw a flier for SYHO I thought that I'd give it a go. I'm one of the lucky ones and have never had any emotional or mental health problems, but now that I have seen what a positive effect singing has on everyone at SYHO I am one of their greatest fans.
Margaret Smith