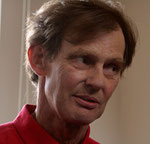 Endorphins and rock'n'roll, music is good for my soul.
Singing free, play my guitar, you make me feel just like a star.
Doctor John, he is so good, he makes me feel the way I should,
Medication, song and dance, a pint of beer, I'll take my chance.
Boys and girls, we play so well, sing together, tale to tell,
Feeling good is so important, music sets a tempo for it,
Everybody knows a tune, lets play it, walk upon the moon!
John Gibbons. 2007