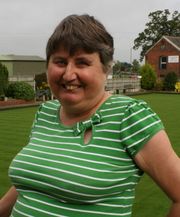 Hi, my name is Hilary Allen, I joined Sing Your Heart Out on the May 4th 2010.
I would like to start by talking a little bit about my singing history. It all started at school where I sang in the school and church choir. When I left school I sat and played the piano to myself as I was not in a choir at the time. However, seventeen years ago I sang with the Carlton Rode Baptist Chapel Choir where we performed a Roger Jones musical called Pharaoh to Freedom.
After a long period of seventeen years in the singing desert, I was rescued by the Sing Your Heart Out group and the lovely Chrissy, who is in charge of the whole thing. I would like to say just how very much I enjoy singing with everyone and taking part in the performances at St Mary's and the Forum. I look forward to every weeks gathering and miss them when on holiday breaks. I would like to thank Chrissy and all concerned for the enjoyment they bring me.