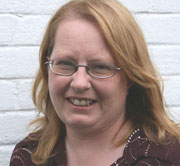 Hi, I'm Fran - I love singing whether I'm 'under the weather' or I'm feeling good and 100%. As family and neighbours (oops) will say, I sing round the house and sometimes in the garden - it just comes out.
I knew I liked to sing and wanted to sing in a choir but I was worried I'd put the other choir members off as I didn't know if I was in tune. I went to a free course at Community Music East for people who felt they couldn't sing but loved to. It was fun and gave me to confidence to start at SYHO.
Singing at SYHO is such a bonus for me and my mental health. Singing with other people in the way SYHO does 'reaches the parts other medication/therapies cannot reach'. I found I could concentrate, feel able to relax with people and have some energy and optimism when low.
I worked for 4 years at Mind, body and Soul ( a holistic mental health centre run by Norwich Mind) as an information assistant until it closed in that 'form' a few years ago. I came first as a client for massage, then an admin volunteer and then as a paid part time information assistant under the supported permitted work scheme.
I loved it and it was a great place to work. I looked for information for clients to assist with a particular issue or various issues. As Mind Body & Soul approached mental health from a holistic point of view I might look into the side effects of a medication, but also benefit issues, childcare and groups/classes in dancing, art, birdwatching, motorbikes really anything aswell as singing.
I'd found, for me, all sorts of activities helped my mental health, the people in my life who support me and it just had so many unexpected bonuses I couldn't have guessed. For me, a lateral approach to finding something to help my mental health was invaluable.
I feel now activities that take you into a different area of your life - like on Tuesdays you're Bob 'the gardener', Wednesdays Bob 'ok - the builder ' is great for good mental health whether you have a problem or not.
I feel labels are for boxes not people and joining groups like SYHO can not only help but you can have fun and meet some great people too.