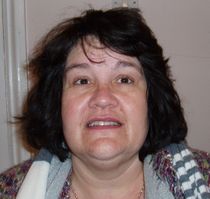 This is Elisabeth's story and will remain in her memory.
I am a service user living in Kings Lynn. As a child I played the cello and sang in various groups , solo and choirs however the severity of my mental health issues isolated me from musical outlets. I moved to Norfolk seven years ago and again was more isolated. The technical instructors on Churchill Ward suggested SYHO and it opened up my soul and more outlets.
I also sing with 'Simply Sing'. It is wonderful to walk around Tesco's and be able to say hello to other SYHO participants, as soon as we see each other a smile always accompanies the hello. To paraphrase the lyrics of one of our songs 'We wish each other joy, health, love and peace'.
Elisabeth Winterbone