The man who was useless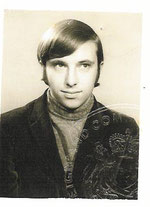 Thirty years ago
This is Christopher. Christopher is registered blind, but unusually for the1960s and '70s he has a grammar school and university education and a promising career as a computer engineer
Many blind people have a little – residual – vision. Christopher can read a book (if he holds it close to his face and goes word by word) and watch the television, but he cannot read from the hospital wall chart, recognize a face or cross a road on his own
Christopher has been taught that a career in science and technology is entirely possible for a blind person and is his best way to contribute usefully to society. But his real passion is music. Ever since his grandfather built him his first wireless set to play him to sleep in their creaky, draughty old house, he has sung and also played on any old instrument he could get hold of.
At 13 he is given his first real guitar and enrolled for lessons with an old professional guitarist who used to play in London dance bands throughout the 1930s and 1940s. Christopher soon finds himself performing, with bands, with choirs and solo, and he continues playing and singing until one day… well, we'll get to that later. . Although he loves music he realises that only a very few people get 'discovered' so he doesn't set his heart on a performing career.
Christopher is content with the way things are. He has a promising career, he has a fiancé, a clever, attractive and desirable young lady and when they are married they will move into a house that they are buying for their very own.
Twenty Years Ago


This is Christopher with his first guide dog Nita. Christopher needs a guide because he no longer travels to and from an office in a car. He didn't enjoy the politicking of the office life so he took an opportunity to go back to college to study to become a piano tuner and technician.

Christopher becomes a competent piano technician with a special knowledge of the history and technology of the instrument. He has a wide knowledge of music and of computers and he becomes a bona fide journalist with a reliable reputation for his writing. Acquaintances in the music business value his opinion and regularly seek his advice.

Now he travels around tuning pianos at music schools and concert halls and occasionally lecturing on the history and technology of the piano to pupils and audiences. At home he writes columns for music magazines and edits The Piano Tuners Quarterly. Sometimes he and his wife attend the concerts he has tuned for or go out for a meal where he is engaged to make an after dinner speech. At weekends they give piano lessons and run a fund raising branch for the Guide Dog Association.

Christopher feels like a useful member of society, not a drain on it, and that makes all the hard work, the long hours of travelling and the busy evenings and weekends worthwhile.
Ten Years Ago


This is Christopher with his second guide dog Myra. They are on their way to tune a piano today.

But things will not go according to plan. Christopher will never tune another piano He will not be able to spend years honing and perfecting his techniques, becoming a master and teacher of his art and eventually a grand old man of the piano trade, accepted and respected by the musical elite. He will no longer attend music business functions as an accredited music journalist or honoured guest.

Today, a near-fatal accident will rob him of his physical health. He will find himself unable to work on a piano or play his guitar because of damage to one shoulder. He will find it too painful to sing because of damage to his chest.

After the surgery, the physiotherapy the medications and endless tests, Christopher will be told that he will not recover and that he will never be fit work again at anything. The Department of Work and Pensions will declare him to be unemployable and he will have to live on state benefit for the rest of his life.

Now that Christopher no longer seems useful, his friends and acquaintances in the world of music will gradually fall away. He will find himself isolated.

Unable now to enjoy the life they have been used to, Christopher and his wife leave London. They find a little place by the seaside, small and inexpensive to live. They leave no forwarding address. Maybe they can build a new life, forget old memories and make new friends

But his run of misfortunes is not over. One day, sitting at the computer that his wife has bought him so that he can divert himself with the fledgling Internet, Christopher experiences a sharp pain in one eye. He feels suddenly very ill. His wife takes him immediately to his GP who declares an emergency sending him to hospital in an ambulance.
He has had an attack of acute glaucoma. Fluid builds up inside the eye. Pressure increases until the lens ruptures and releases the eye's contents. Surgery can replace the torn lens and reseal the eye Christopher lies in his hospital bed, pumped full of morphine to dull the pain. With eyes covered ready for an operation he does not notice that the other eye ceases to function. The retina has failed. This cannot be repaired or replaced.

Now Christopher looks as ill as he feels, and to cap it all, his hair and beard fall out. His new neighbours think that he has AIDS or terminal cancer and wonder aloud how long he has to live.

He loses his appetite and the ability to sleep by night or by day. He becomes depressed, anxious and hyper-active. His weight decreases until it is less than 7 stones. He is referred to specialists about his physical and mental condition One day, he loses his temper and lashes out at one of the doctors in sheer frustration and impotent fury. He finds himself committed to a mental hospital.

Now he is all alone without his wife and his dog. He misses out on morning coffee, afternoon tea, supper and main meals because he fails to notice when the tea trolley arrives and cannot use the self-service canteen on his own. He doesn't seem to be able to attract the attention of the staff to ask for the help he needs

Christopher thinks that life is no longer worth living and he contemplates putting an end to it.
Three years ago
There is a social worker called Jenny, Jenny thinks, "This man has been robbed of his faculties and all his coping mechanisms have failed him. I must reach find something that will touch and re-awaken him. This is a person whose life was once wrapped up in music. Perhaps now, music will be the means to find his vital spark and fan it once more into life."

Tracy is a psychotherapist who loves to sing in her spare time. Tracy thinks, "I wonder if I could use my love of music to help my patients to recover their mental health. I have read that group singing has been clinically proven to have health benefits. I'd love to prove it myself. I will need an experienced and sympathetic singing teacher and a room in the hospital where we can meet to sing. Then I'll need to find funding from somewhere. I will call my project Sing Your Heart Out because that is what we will do."

Tracy finds a precedent to her work. The old Norwich Asylum at St. Andrew's hospital, now no longer in existence, had a musical band and singers back in the 1860s. She finds this out when she receives a letter from a music collector who has picked up the old music from 'The Asylum Band'. The letter writer happens to be the leader of The London Mozart Players. He is so interested in the history of the project that he offers to come to meet Tracy;

Tracy finds a teacher who agrees to start the project off with a few taster sessions, but she has her own projects, including community choir so she cannot become a permanent leader. Amongst the 30+ people to turn up are hospital patients and staff, residents from care homes and individual mental health patients with their carers and support professionals – including Christopher and his wife and their social worker.

They find a welcoming, supportive and caring group in which no-one knows who is a patient and who is a health professional. .The physical and vocal exercises that singing groups use to warm up their bodies and voices and the singing session itself have a powerful effect on Christopher. For a little while and for the first time since he became ill, his anxiety and panic disappear It's a small beginning, but he decides he will come again next time.

After these successful sessions, Tracy decides to find a teacher who is prepared to stay with the project for a long time. She makes herself a badge saying "Singing teacher wanted" and wears it wherever she goes. She meets Chrissy, a classical and jazz singer who has decided to settle in the area and she agrees to give the project a try.
Today

This is Christopher with his most recent guide dog Brownie with all their friends from Sing Your Heart Out around him.

There is Tracy, founder and leading light of Sing Your Heart Out. Tracy thinks, "My singers support each other and they support me more than I could have ever dared hope. Together we will spread the message of Sing Your Heart Out to everyone who needs it."

There is Chrissy, our singing teacher, conductor and musical arranger. Chrissy thinks, "We can carry a tune and our harmony parts well enough to sing for ourselves and for anyone. We sing well and we sing from the heart. We can show others how to do the same. I can help singing teachers to get their own groups started."

There are new faces – over 400 people have been members of the project during its first three years. They have found that this therapy has helped them to rebuild their confidence and their lives. They have moved on to other things – community choirs, other societies, back to work…

There is a core of long-term members, some of whom have been with the project since the beginning and intend to stay. They want to see the project doing for other people what it has done for them. One day, Sing Your Heart Out could be a therapy available to everyone in Mental Health Trusts in the UK And for those people for whom singing is not the way out of their troubles, maybe there could be sister projects run by others who specialize in different fields – Dance Your Heart Out, Act Your Heart Out, Paint Your Heart Out…

Sing Your Heart Out has done things that no-one would have thought possible back at the beginning. We have been featured on a BBC Radio 4 programme. We have won a prestigious national prize

We have performed on stage at the Norfolk and Norwich Festival – something that nobody would have expected a set of nervous and retiring mental health problem sufferers could do. We have composed and performed our own piece of music.
We have demonstrated what we do to a number of groups of health professionals, including delegates at the annual National Institute of Mental Health conference. They have all been exhilarated to experience for themselves what we do.

Christopher stands amongst his friends. He can now see just enough to know that other people are there. A new young eye surgeon has arrived at the hospital and he has carried out some new surgery that has given Christopher back a little sight in one eye - around 2%of what you can normally see. It's not much but it's so much better than nothing at all.

He has returned home to his family and is now eating properly. He has been prescribed a constant positive air pressure machine for his sleep apnoea disorder. He can now sleep comfortably at night. Nowadays, it's quite fashionable to have a shaved head so it doesn't matter about his hair falling out.

With improved health and meaningful social contact has come improved confidence. Christopher has personally represented Sing Your Heart Out, giving lectures about the clinical benefits of group singing to trainee doctors. He has run his own singing workshops for groups of healthcare professionals from other mental health trusts, getting them to join in with the exercises and sing so they can appreciate the therapeutic value of group singing He has written several presentations about the project, one of which has resulted in a request for the group to sing their favourite song - Stand By Me – for a short film to be screened during Mental Health Week in October 2007.
Christopher thinks, "I have a role in the development of Sing Your Heart Out. This has helped me to start writing again. As a result of my harrowing experiences as a mental health patient I have been invited by Norwich City College and the University of East Anglia to take a consultative role in the education of future healthcare professionals so that mistakes and misunderstandings in my treatment will not be repeated in future.

"Maybe I'm not so useless after all."