SYHO Big Sings, and other events
Everyone enjoys our workshops in Norwich, King's Lynn, Great Yarmouth and Attleborough, but from time to time it is nice to do something special.
We have events we call Big Sings, where everyone from all three workshops can come together in one place and sing all their favourite songs together making a massive sound !
We also have Open Sings in various places where we get together and invite anyone from the local community to join us and find out what SYHO is all about. By the end of the session we're all raising the roof together with glorious harmonies! 
In the winter we have events based in or near one of our workshops, but in the summer we pick somewhere central that we hope everyone can get to.
All our special events feature food, sometimes lunch, but always lots and lots of cake !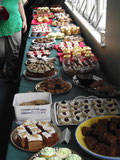 Many of our singers enjoy baking
and are very good at it
including some of the men !
This was the spread at our Celebration Tea

in July 2011
We also do other things.
Sometimes we sing in public for special events, often outside the Forum in Norwich, We usually get our friends from other choirs to join us for this, as well as getting the audience to join in.
Doing this helps to combat the stigma of mental illness, showing people what we can do, and that we are just people, just like them.
For more details see requests for appearances