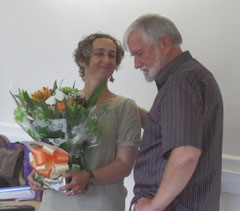 Our lovely voice coach, Mary, has left us to move to a full time job. We will miss her for so many reasons, and wish her good luck for the future

Here is Henry, chair of SYHO Norwich, presenting her with some flowers and cards.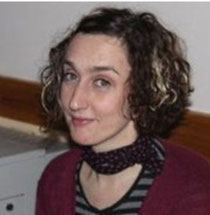 Mary Lovett is a musician and composer based in Norfolk. Her career is musically diverse and with different age ranges from singing in the Sweetbeats (an eight piece Ska band), writing her own music, being a musical director for a Norwich Pride Choir, writing music for animation and delivering early years music sessions to pre school children.
Mary studied for two years at Access to Music College. She graduated with Distinction and was nominated by her tutors for the "Outstanding Student of the year award". She was presented the award by Radio One's Edith Bowman at the BAFTA academy in December 2006
In 2006 she released her critically acclaimed first Solo Album "Working to a Click" She is working on her second Album in between the demands of work and family.
Mary worked at Stage Coach Theatre School as the Vocal Coach from 2007-2008 Mary has been the Musical Director for Singers Inspired and Big Heart and Soul Choir, and currently Norwich Pride Choir.
In 2010 She Graduated from UEA with a First Class Honours Degree in Popular Music Practice.
Mary is a performer with Theatre of Adventure in the show Magic Adventure. The show is interactive theatre and multi sensory experiences for under fives. The show is one of the most exciting things to be involved with as the team are collaborating with composers Sian Croose and Jon Baker and the London Symphonia.
Mary is actively involved in community music, particularly in facilitating vocal workshops for children and adults. This is an area that she finds particularly rewarding as she is passionate about the benefits of singing for confidence and self expression and the heightened self esteem that can be achieved through music and song. Mary specialises in A'Capella singing and uses material from around the world. She also composes her own material for voices. The ethos that she works with is that singing is for everyone regardless of age or ability and you don't have to read music or be highly skilled. Just willing!