Jane Wells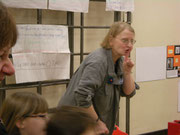 Jane's enthusiasm for singing and song is reflected in much of her past and current work and she is a long standing member of the Natural Voice Practitioners Network. As a teenager in London she went to the Junior Department of the Royal College of Music primarily as a pianist. After completing a music degree at Durham University she specialised in composition as a postgraduate at Southampton and Sussex Universities. One of her first jobs was music and dance co-ordinator for Arnolfini/Bristol which gave her a good practical grounding in many aspects of arts work.
Back in London in the 1980s she taught workshops and courses for the arts-in-education team at Battersea Arts Centre, Morley and Goldsmiths Colleges of Adult Education, and the Rambert Academy where she also worked as a class piano accompanist. Much of her composing at this time was for dance with performances taking place at the ICA, Riverside Studios, regional festivals, abroad and on Channel 4 TV.
In 1987 she left London to become composer/musician-in-residence at a small arts centre on the North Norfolk coast. The initial residency evolved into the independent community music organisation, Norfolk Music Works,which ran very successfully for twenty years serving West and North Norfolk. .
She took time out from Norfolk between 1995-97 when she was contracted to encourage community music activity across Lincolnshire – this led to the foundation of SoundLincs community music.
Over the last few years she has completed many music residencies in schools and communities including work with Britten Sinfonia for Huntingdon District Council's 'Great Fen' project resulting in the publication of four Little Songs for the Great Fen composed by the children and families in around Ramsey who took part in song writing sessions with her.
Also on the singing front and alongside her work with Chrissy for SYHO West, she directs or co-directs two ongoing adult singing projects - Voices Unplugged (Spalding) and Big Heart&Soul (Castleacre) . She also led many and varied  'SingUp' training sessions for SoundLincs.
Recent compositions include Here's What I Saw, a half-evening of music-theatre performed at Stamford Arts Centre, and Playing The Game premiered by the Essex Symphony Orchestra in Chelmsford. Time Song, for a small ensemble of counter-tenor, recorder and 'cello, has been recorded for 'Pied Piper', a CD which was released in 2009 on the Campion Cameo label. She has written several songs for adult and junior choirs including the theme song for a large-scale project, Crossing The Line, that took place in a swimming pool complete with extraordinary singing acoustic!