Chrissy Parsons West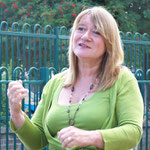 Chrissy started her singing career in London, moving freely between folk, jazz and classical music before moving to Berlin to work with acoustic folk-rock band 'Tattoo' and later to tour Europe in the role of 'Crissy' in the German production of the musical 'Hair'.
On her return to London, she trained in music education at both Brunel University and Roehampton Institute, specialising in the techniques of Orff, Kodaly and Dalcroze. She became one of the first teachers of music classes for pre-school children and parents in London and was consequently in great demand for teacher training sessions in the field. She was commissioned by the BBC to write songs for their "Words and Pictures" programmes for children.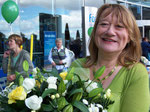 She has taught singing and musicianship for all ages and for 10 years held the post of Head of Community Music for London Borough of Hounslow, founding an innovative programme of wide-ranging music classes - including the borough's first-ever community choir - while still finding time to perform as lead vocalist with Hounslow Jazz Orchestra.
On moving to Norfolk in 1996 she worked as vocal coach for Access to Music and Stagecoach School of Performing Arts, and in 2001 founded Hearts & Voices.