SYHO Celebration Tea
In July 2011 Sing Your Heart Our hosted an event at the King's Centre in Norwich.  This was to celebrate how far SYHO had come since we started in 2004 and to make presentation to our founder Tracy Morefield to celebrate her official retirement.
We invited people who had been friends of SYHO, and people we thought might like to become friends, as well as guests of our singers.
We showed a film about SYHO "Songs & Stories"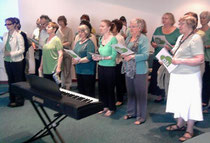 We sang some of our favourite songs,
and we also got everyone to join in
with us on some of the easier ones.

We recalled how Tracy had started the
whole thing, and how we had tried to follow 
her principles ever since.
We then presented her with a rose-bush
called, appropriately, "Sweet Symphony"
This being a Sing Your Heart Event, there was of course a lot of cake !
Everyone who came said how much they enjoyed themselves (not just the cake!) and people who had not previously known about us were impressed to see what we have achieved. It was a real high point of 2011 for all of us, and we may do it again one day.