Tracy Morefield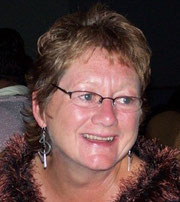 Tracy Morefield  worked at Norfolk and Waveney Mental Health Trust from 1985 until her retirement. Originally training as a Mental Health nurse and later qualifying as a psychotherapist, she worked for the Southern Locality offering individual and group psychotherapy. She also had a private practice, working mainly with people who have severe eating disorders.She began her career working in the Rehabilitation department of Hellesdon Hospital, running activity and social skills groups and feels that the ' Sing Your Heart Out' project combines current therapeutic skills with the more practical and creative side of her early career.
Tracy has always had an interest in Arts and mental health , having sung in several choirs since childhood and experienced first-hand the joy and sense of well-being derived from music. Several years ago she introduced a ' Music and Reflection' group for in-patients at Hellesdon Hospital which remains a popular weekly event where people share feelings and memories evoked by pieces of music of their own choice.
In 2004, prompted by the discovery of the forgotten music from St Andrew's Hospital ( see Our History) Tracy began searching for a suitably qualified and experienced voice coach to run some pilot singing workshops. She wanted it to be accessible to as many people as possible with the primary aim being of enjoyment, and enhancement of a sense of wellbeing and positive mental health She sourced funding for 12 sessions from a charitable fund with in the Trust and relied on the patience and good-will of colleagues for their support as she sensed that the workshops might be popular but really could not predict the response.
Tracy says she has been thrilled to witness the growth of popularity of the Sing Your Heart Out project and also feels privileged to be part of a community of professionals and service users alike who recognise the enormous value of the Arts for Mental Health. She feels that the many awards and recognition that SYHO has received reflect a growing awareness that the time is right for the promotion of more creative and inclusive ways of supporting mental health. And she quite liked meeting Tony Blair !
In July 2011 Sing Your Heart Out celebrated Tracy's retirement and thanked her for all she had done to establish this project at a celebratory tea.