SYHO goes to Tokyo
We at SYHO work hard to prove to the rest of the world just how good these singing workshops are for people, and how they can help those with experience of mental health problems.
Recently, Professor Tom Shakespeare of UEA Medical School led a research project to provide evidence of this.
 The Main findings of this were
Sing Your Heart is really inclusive
'Lots of things say they are inclusive but aren't really. SYHO really is. There are no cliques, no animosity, no competition.'
Everyone is accepted as equals
'You talked to everybody, it didn't matter who they were….We were all in this together.'
It has a positive effect on mental health
a 'life saver'
'the key to my recovery…the single most important thing for me'. 
'SYHO saved my sanity that year'.
Through Professor Shakespeare's connections with Professor Kohji Ishihara at Tokyo University, Penny Holden and Maggie Wheeler of Norwich SYHO committee were invited by to go to Tokyo and do a presentation about the history of mental health treatment in this country and all about the research.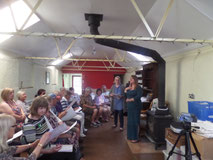 They were also asked to show them what a SYHO workshop is like. This was not easy as neither of them are voice coaches, but Chrissy gave a lot of help in preparing them for the ordeal. She helped select the three songs and showed them how to teach them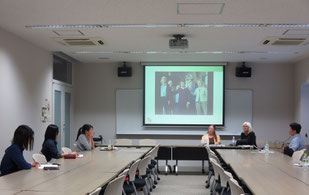 More importantly, it was a great honour to do an academic presentation to post graduates and other faculty members.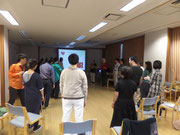 The singing workshop, was very successful and quite emotional.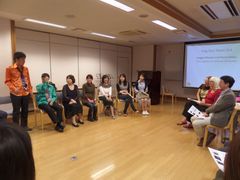 The audience for this included some autistic musicians, and some Japanese users of mental health services.
SYHO South had recorded a Japanese song, Hotaru koi, specially for them, which we played to them. They clapped .... and laughed a bit !


After some typical
warm-up exercises,
three songs were taught.
Film of SYHO groups singing in Norfolk was used to help with this.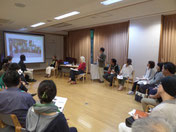 This is the singing workshop, here are Maggie & Penny leading (very badly) "Tongo" then "Oh how lovely is the evening"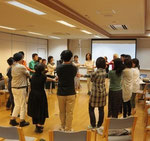 Then the audience replied by singing some Japanese songs back, and finally everyone joined in Auld Lang Syne.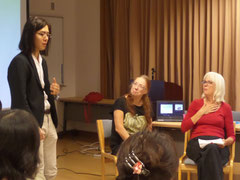 Many of those present said things about how they had never done anything like this before, and that the Japanese did not usually do things like this. One Japanese service user was so overcome she hugged Maggie and Penny to thank them.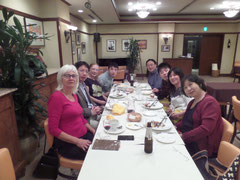 Afterwards Maggie and Penny, along with the two young musicians were invited by Professor Ishihara to a celebratory meal.