The Asylum Band


On 20th June 2006, BBC Radio 4 transmitted a programme called "The Asylum Band" The program, produced by Margaret Renn was made by Just Radio
The programme told the story of how the violinist David Juritz had come in to possession of all the old sheet music from St Andrews hospital, the old Norwich Lunatic Asylum, when it closed in April 1998.
The programme featured interviews with people who had worked at St Andrews Hospital until it closed, and described how the asylum had had its own orchestra made up of staff and patients.
The programme ended with an acount of how Tracy Morefield had started Sing Your Heart Out to continue the tradition of music as therapy, and featured interviews with Tracy Morefield and Penny Holden.
Sing Your Heart Out got together specially to sing "The Peanut Song" for Margaret Renn. This was recorded and was used in the programme..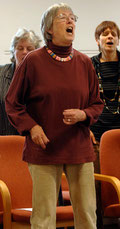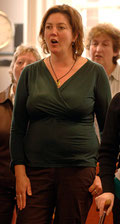 On Radio 4 website there is still the information about this programme, but for copyright reasons it cannot be replayed.