Sing Your Heart Out 10th Birthday Celebration

This was held in
the main hall at
Hellesdon Hospital
on 25th June 2014

We have come a long way since the begining, Norwich, Kings Lynn, Attleborough & Great Yarmouth, but we went  back to Hellesdon Hospital, where we started, for our celebration. 
Getting the room ready
Organising ourselves
105 singers from our four groups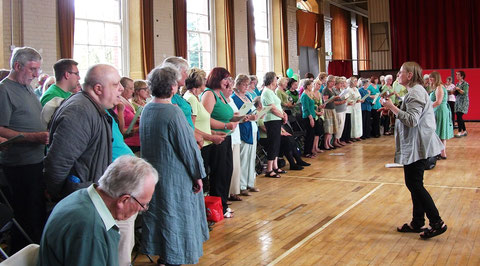 Lots of singing, of course
Three voice coaches to keep us together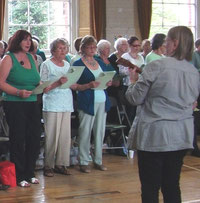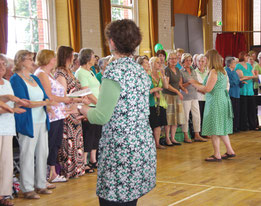 Plenty of fun
A couple of speeches
Performing for our guests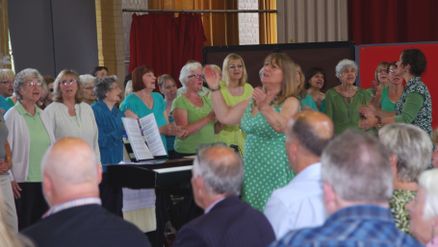 The birthday cake
Just a few of the quotes...
"Excellent, fun day. Have not enjoyed myself so much for a long time"
"I think it has been a privilege to have been here"
" The voice coaches did a terrific job "
"Our Bob is dancing so we have hit the spot!!!"
"I had a lump in my throat, so moving."
"It has been a truly magical hour that has sped by"
"It was lovely to sing and talk with others from the other groups".
"My emotions have been at full stretch from near to tears to beaming smile"
"I had a very lovely day and it was nice to sing with so many people"
"Had a fantastic day - can't wait to go again"
" Best SYHO event yet, really relaxed and enjoyable "
"Magic"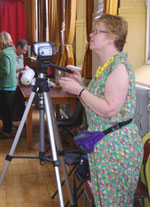 Messages from friends who could not be with us...
From Tracy
"10 years. How did that happen? It does not seem anywhere near that long ago when I waited nervously wondering if anyone would turn up for the first session. 40 people arrived, and that, as they say, is history.
 I am so very happy that SYHO continues to grow and bring health and happiness to so many people, under the careful and caring stewardship of committee members old and new.
 Sadly , a bout of appendicitis kept me away from the birthday party but rest assured that I have been busy spreading the word and helping to raise money so that the project which began in 2004 has a great future.
 I am so very proud of everything that SYHO has done and continues to do. Thank you all for supporting and caring for it and helping it grow.
 Keep up the good work, continue to have great fun and , of course, Sing Your Hearts Out!"
Tracy Morefield, who started SYHO
From Sharon, the first chair of the SYHO West.
"Happy 10th Birthday SYHO! Fantastic opportunity to; make new friends, have fun, build confidence and self esteem, and a personal one for me…..realise the benefits and enjoyment that singing can bring !!! Congratulations to all, whatever your role and keep up the fantastic work. Here's to the next 10 years!"
  With very best wishes;  Sharon Picken
 Service User and Carer Experience Lead, NSFT
A Poem
SYHO went to Norwich last week,
To Hellesdon the asylum,
You might think going there would be a trifle glum,
You might think what a horrid place,
But we went to sing songs that would put a smile,
On anybody's face.
First we had our lunch,
We took pack-ups along,
You can't put much gusto,
On an empty stomach,
Into a jolly song
Then we had a rehearsal,
of the parts we were going to sing,
Some of us are like Kiri, te Kanawa that is,
Some like Bryn, others like Bing,
to know what section we're in – It really is the biz.
Then our guest's arrived, some high
And others a low station.
Who'd have known when they came,
That we'd be expecting.
Some audience participation!
Then it was over all too soon,
We had tea and sandwiches and cakes to down,
But, as it was ten years in Norfolk for SYHO,
Singing "Happy Birthday,"
Was the jewel in the crown !!!
By Stafford – SYHO West member