Queen's Award for Voluntary Service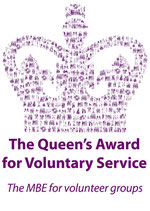 We were nominated for this award in 2011. We were shortlisted and in recognition of this on Monday 14th March we were invited by the Lord-Lieutenant of Norfolk, Mr Richard Jewson JP, to a reception at County Hall for the five Norfolk groups nominated that year. Four members of the SYHO Central committee, together with our voice coach Chrissy Parsons West attended.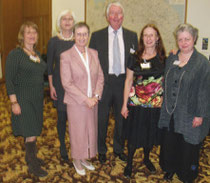 Left to right
Chrissy Parsons West
Maggie Wheeler
Carolyn Bain
Mr Richard Jewson JP
Penny Holden
Kate Hesketh Moore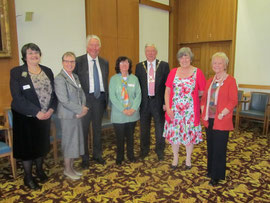 Our Nomination went forward to 2012 and we were told we were on the national shortlist. This brought another invitation from the Lord-Lieutenant and on 15th May 2012 Elisabeth, Carolyn, Judith & Irene attended his reception at County Hall
Things were now getting even grander, as we received an invitation to attend the Royal Garden Party on 29th May at Buckingham Palace.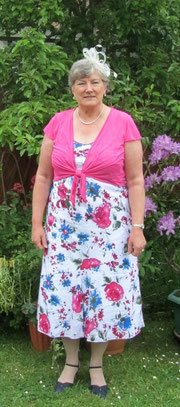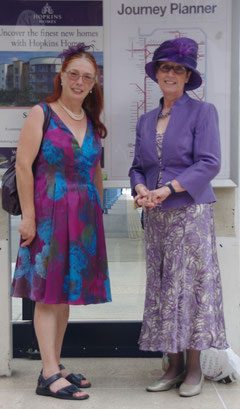 Here are Judith Varley in her garden, and Penny Holden and Carolyn Bain at Norwich railway station, all dressed up on their way to the Palace.
(sadly cameras are not allowed at the Garden Party)
Judith and Carolyn both got a great view of all the members of the Royal Party, including the Duchess of Cambridge, which was a great thrill for them. 
On 2nd June 2012 the winners were anounced and details published. We could now share our good news with everyone.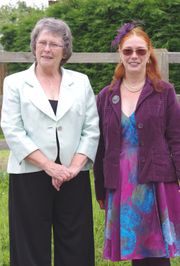 On 12th June, Kate Wood, Chair of SYHO South, and  Penny Holden went to Sandringham Garden Party. This was Her Majesty The Queen's special Diamond Jubilee event  to honour people and organisations who contribute to life in Norfolk, and we are so pleased that Sing Your Heart Out were included.
The sun shone, the food, prepared and served by catering students from Norwich City and other colleges was excellent, and they had a very close view of the Queen.
Our SYHO Party

On Wednesday 13th June we had our own celebration party at the Phoenix Centre. As usual there was lots of cake, including a special SYHO cake.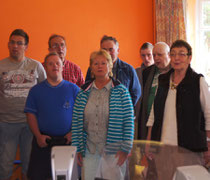 Many friends of SYHO came to join us, including Board Members & staff from the Norfolk & Suffolk Mental Health Trust.
We were also delighted to have our founder Tracy Morefield join us, shown left in the middle of some of our regular SYHO singers.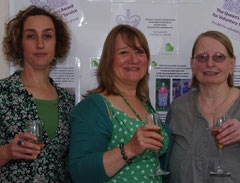 Our voice coaches, Mary, Chrissy & Jane celebrating with some (non-alcoholic) fizzy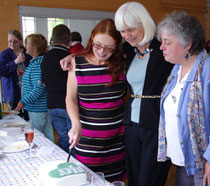 Penny, Maggie & Kate cutting our special cake
We were also joined by the press. A reporter and photographer came from the Eastern Daily Press, and on Thursday 14th an excellent article about us appeared in both the EDP and the Evening News. (we love good publicity)
There were also interviews on Radio Norfolk twice on 12th June. The interview at 7:30 am was about the Royal Garden Parties, but the later one at about 11:30 was about winning the Queen's Award and about what SYHO have achieved in Norfolk.
Official Award Presentation
On 25th July 2012, at the Great Hospital, Bishopsgate, the Lord-Lieutenant of Norfolk,  Mr Richard Jewson JP, presented us with the certificate signed by the Queen and the Crystal Award.
We had been assesed for this award by Deputy Lieutenants
Lady Evans-Lombe and Brenda Ferris (in the picture, behind Penny & Christopher).
Brenda spoke movingly about why Sing Your Heart Out were receiving this award. Brenda's speech.
  The Eastern Daily Press were there and published this article about the occasion.