SYHO at the 2007 Norfolk & Norwich Festival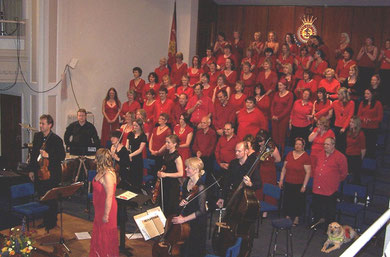 In 2007, Sing Your Herat Out were invited to perform at the Norfolk and Norwich Festival along with  David Juritz and the London Mozart Players.
This was a follow-on from the Radio Program "The Asylum Band" which David had narrated and which is part of SYHO's History.
The Concert on May 14th 2007 at the Salvation Army Citadel, was a great success, and we surprised many people with what we had achieved.  read comments
 Also helping us out with the singing was  Chrissy's well known and respected community choir "Hearts and Voices",
We sang "The Peanut Song"  which was one of the pieces of sheet music discovered at the old asylum. David had become quite attached to it; The London Mozart Players played many other of the pieces that had been found there, It was a real link with the past to be playing from those historic old band parts.
We also sang a few of our favourites from our workshops, including "Stand by me" which has become a bit of a SYHO anthem.
The concert ended with the world premier of a new work "Spring" which had been developed in workshops with renowned composer Fraser Trainer, who works with such prestigious names at the BBC Symphony Orchestra, and English National Opera. Fraser saw that we all had an input as he created this piece and many of our original bits of words and tunes made it through to the final piece. This was both exciting and interesting. Actually, the performance on stage was the first time we had managed to sing through the whole piece without stopping. Nail-biting tension !