International Music And Health Conference
This conference in September 2008 was put on by Sidney De Haan Research Centre for Arts and Health
 It was a  two-day conference, which presented overwhelming evidence that music has a profound effect on health and wellbeing, and was  heralded a huge success. 
The conference included a ceremony for awards given by the 
newly formed Royal Society for Public Health to  academics who had made a significant contribution to research and practice in arts and health.
Certificates of commendation were also awarded to groups and individuals who had been active in music and health.  Sing Your Heart Out were awarded one of these certificates
Read article in Medical News Today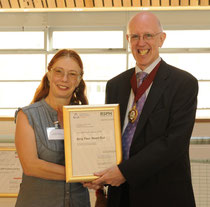 Penny Holden shown receiving the certificate,
on behalf of Sing Your Heart Out
from the Royal Society for Public Health.