Freebridge Community Award 2012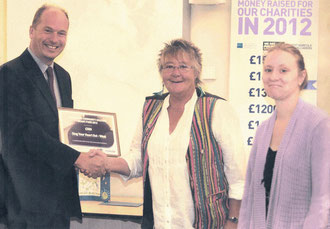 The Freebridge Community Fund was established in 2010 to support community and voluntary activity that meets the needs of communities within Freebridge's operating area of King's Lynn and West Norfolk.
In September 2012 Sing Your Heart Out West were awarded £500 towards the cost of running their workshops.
The picture shows Helen Bensihem (middle) and Sylvie Taylor recieving a certificate from Chief Excecutive Tony Hall.
West Norfolk Disability Forum
Opportunity Awards 2012
These are awards are given to individuals or organisations who have demonstrated innovation, imagination and commitment in ensuring equality of opportunity for people with disabilities in the local community.
NB disability will include those with mental health problems.
On 24th April 2012 representatives of Kings Lynn West were presented with a silver award in this category by the King's Lynn Mayor Councillor Sampson at an event at the Corn Exchange
Shown in the photo are, in the second row, starting second from the left,  committee members Helen Bensihem, Elisabeth Winterbone, and next to her, Sylvie Taylor.
Helen and Elisabeth were also interviewed for Radio Norfolk.
Thank you to all those who kindly nominated SYHO West.