Health & Social Care Awards 2006
In February 2007, SYHO were named as one of the four National Finalists in the Mental Heath category of the 2006 Health and Social Care Awards
As of of the four shortlisted projects,  they made a short film of us to be shown at the award ceremony at the London Metropole Hilton
Even though we didn't come first, It was an honour to be there and we had a great time at the award ceremony. It was very interesting to see all the other wonderful projects that people had come up with.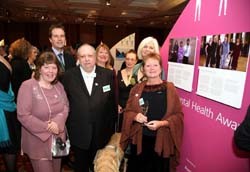 L to R, Margaret Bridgman, David Juritz, Christopher Bridgman, Chrissy Parsons West, Penny Holden, Maggie Wheeler & Tracy Morefield.
In front, Christopher's dog Brownie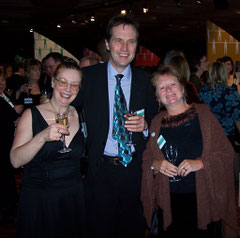 Enjoying a glass(or two) of Champagne !
L to R, Penny Holden, David Juritz and Tracy Morefield