Concerts, appearances, awards & other recognition
We always try to keep Sing Your Heart Out in the public eye and let everyone know what we're doing. We attend conferences, submit ourselves for all sorts of awards (which we sometimes we win or get commended) and make appearances in public workshops and events.
We do this because we want people in Norfolk to know about us and come and join our sessions, but also so that people elsewhere can see what we have done, and just what it is possible to achieve, so they can start similar groups in their own areas. We know how much people benefit from coming to SYHO, and we like to spread the word.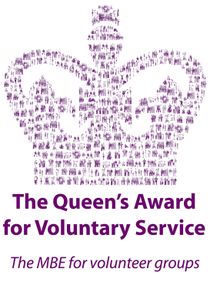 It was anounced on 2nd June 2012 that the volunteers who run Sing Your Heart Out have been awarded The Queen's Award for Voluntary Service This is the equivalent of the MBE for volunteers, and we all very proud to have received such recognition.
Some highlights of the past few years