Patron of Sing Your Heart Out
We are delighted to welcome Carol as our patron and hope that we will have lots of exciting opportuinities together.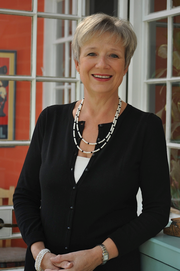 Carol Bundock has spent most of her working life with the BBC, first in
local radio, at BBC Radio Norfolk, and then as a reporter and presenter for
BBC Look East.
She is a Deputy Lieutenant for Norfolk, president of Girlguiding Norfolk, a trustee of the Norfolk Community Foundation, a columnist for Let's Talk magazine and a patron and volunteer for the child bereavement charity, Nelson's Journey.
She passionately believes in community, and through her association with various charities, she knows how lucky we are in Norfolk to have such great volunteers. With this in mind,
she is extremely proud and pleased to become a patron of Sing Your Heart Out. "
It works", says Carol, " Singing is a great way of bringing people together to open their hearts, minds and voices. You don't have to be a great singer, just willing to have a go!"